Jennifer McCord Associates LLC
Creativity Coaching, Whole Book Continuity, Publishing Coaching, Project Management, Workshops & More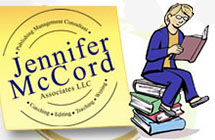 Welcome Writers and Publishers!
Jennifer McCord Associates (JMA) is dedicated to supporting the Northwest writing community by providing superb professional consultation and representation in the publishing marketplace.
We offer a variety of coaching and editing services to the small press, author, or aspiring writer.
Founder Jennifer McCord started her business based upon her love of reading, which began as a young child and eventually led her to the independent book business, and beyond. She now offers the benefit of her years of extensive and varied experience within the publishing and book retail industries to writers and publishers seeking to introduce their fresh voices to readers everywhere. Contact Jennifer.
Many Ways To Help You
We offer an array of highly useful professional services to a wide variety of prospective clients. Please explore this website to learn more about who we serve, how we work, and how we can help you to find greater success and fulfillment in your writing.
In addition to years of direct writing and publishing experience, Jennifer McCord is also a certified Creativity Coach—a trained professional who assists writers, artists, designers, performers, inventors and others to develop their talent and accomplishments.
You can also learn more about Jennifer here.